Details
Starts: Monday, February 11th


Ends: Thursday, February 28th


40 South Montgomery Street
San Jose, CA 95110
View Map?



Auction Type: Public Auction

Categories: Automobiles, Industrial & Manufacturing, Miscellaneous, Tools, Vintage Equipment
Online Bidding
REGISTER AND BID ONLINE FOR THIS AUCTION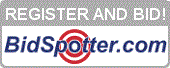 click here to begin
This is an online only auction.
No in-person bidding is available for this sale.
Contact Information
Contact: Ed Garcia
Company: Silicon Valley Auction Service
Address: 1285 Alma Ct., San Jose, CA 95112
Phone: (408) 219-1166
Fax: (408) 295-3891
Description
In Conjunction with USAuctions


Full Catalogue online with Pictures


Over 300 Lots including but not limited to:

2012 Chevy Van, 20K miles, equipped for disabled transport
Simpson Mix-Muller 1.5G
Grinders and sanders in various sizes and configurations
Electric hand and table saws
Surface plates and right angle plates
Sharp milling machine
Rotary vice table (10 in diameter)
Panel saw with Skilsaw pro
Drill bits and drills
Co-Check coordinate measuring machine with stand 20 x 24,
model 100
Rockwell/Delta radial arm saw, model 1694675, ser 4-RAS (12")
64 x 60 x 84 Paint booth with 3 attached sprayers
54 x 23 x 36 in tumbler
220 single phase KILN 29" round by 41" tall
MAX 2 in belt sander/grinder
LINC welder welding machine, 400 AMP
Master machinery 3/4" drill press, model MC220 FDP
Walker Turner 16" band saw direct drive, ser 51BE2A
MBA sandblaster model 362830, single phase 120
Northfield band saw, 36", ser no. 691843-F
Louisville roll-around-ladder, 6ft, 98in Tall
Belt lacing machine, 24 x 34 x 29
Toledo Scale, up to 700 lbs
Cold drink machine, 36 x 26 x 80
Large quantity of "Grabber" screws, (various sizes)
Dynamic air Pnumatic conveying system
(Assists with lot no. 1)
KLOSTER continuous sand mixer, 120lb per minute, with
feeder, hopper and control box
Conveyor belt system, 20.8 x 10.5, 14inch rollers, 28inch tall
clamps, vice and hand tools
Conveyor belt systems
HOBART Arc-Welder, 220V on cart
Miller synchrowave 350 LX w/rods
QUINCY Compressor, model 350
QUINCY Compressor, model 235
Portable Acteylene/Oxygen cart
Rebuilt 350 Chevy engine (with spec sheet) chrome 14in air
cleaner, aluminum valve covers, holly demon carp, (rebuilt
from high performance shop)
2001 Mercedes, C240, 285,000 miles, current registration,
runs well
1996 Chevy W-4, 14 ft bed, Tilt Master, current tags, 185,622,
runs well
Caterpillar Propane forklift, 2985.5 Hrs, 6,000lb, double mast
side shift
TROY-Bilt 12.5 HP lawnmower
Dovetail machine
Halogen lamp
Power nailer
Various pipe clamps
Simpson 260, Weller solder gun, 2 probes
30 inch bolt cutters
Mighty precision angle tight vice 6", model MV-6
Mitutoyo calibrator, .001-18", no 192-112
Mitutoyo calibrator, .001-24", no 192-114
SPI dial depth guage calibrator, 20-710-0
Mixed hand tools, hammers, screw drivers, level
Galvinized steel 1/2" cabling
HOMAK 6 drawer tool box
HAZMAT paint locker 43 x 18 x 44
PAYMASTER wribbon writer
Gorilla racking 4 x 8
pallets of Mold jackets in various sizes
pneumatic hoists and cranes in several variations
In ground gas fired furnaces (all inclusive)
crucibles in various sizes, many noltina 9 inch crucibles
barrel racks for 55 gallon drums
hand trucks and dollies
numerious vices of various sizes
JUMBO vehicle tool box 64 x 20 x 17
30 in sander/grinder
BURRMaster model 760, burr machine, 57 in tall
Steel plate 60 in round, 5 in thick
Steel surface plate 78 x 52 x 5
Collets and tool holders

much much more.










Inspection
Local Preview Today, Friday, February 22, 2019 9 AM to 3 PM Internet Auction Catalog can be download at https://www.bidspotter.com/en-us/auction-catalogues/timed/bscsiv/catalogue-id-bscsi10002
Directions
Pick-up directions to be announced
Payment Methods
Auction Item Removal
to be arranged with Ed Garcia
Links